How to choose this product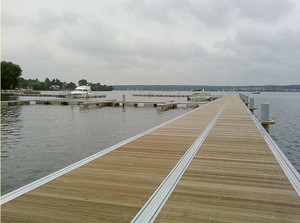 A floating marina dock facilitates access to moored craft.
Applications
Such docks can be laid along a shoreline to facilitate vessel access or can constitute a comprehensive port ensemble. The main docks of a marina are securely fastened to posts. Narrower fingers delimit individual vessel slips, providing lateral access.
Technologies
These docks are supported by flotation elements. They are built of galvanized steel, aluminum, concrete, plastic and/or wood. Materials are chosen according to size and functional constraints.
How to choose
A floating dock is indispensable in areas of significant tidal variation in order to maintain a constant vertical relationship between dock and vessel
Advantages
- Avoids problems due to tides
- Facilitates vessel access
Disadvantages
- Anchoring the structure can be complicated and expensive