Floatation suits
13 companies | 51 products
How to choose this product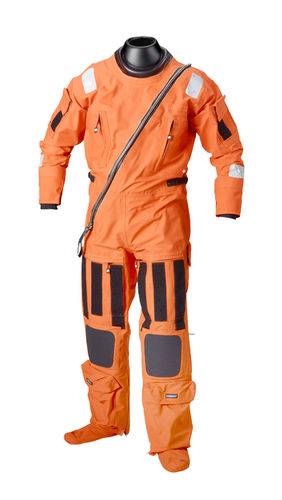 A flotation suit is a full-body garment enabling sailors, offshore workers and others to remain afloat in case of a fall into the water or an evacuation. It also offers excellent thermal protection.
Applications
This gear is sometimes referred to as a survival suit because it significantly retards the onset of hypothermia during prolonged periods in the water. Such garments are recommended for professional seamen, offshore platform workers, sea rescue personnel, racing or cruising sailors and in harsh weather conditions. In certain situations, SOLAS regulations require their use.
Technologies
Most of these suits are made of nylon, with watertight seals at the neck and wrists. Some have integrated booties and/or gloves. Reflective strips improve their visibility at night. Flotation is usually provided by layers of polystyrene sewn into the garment.

Certain versions are fireproof, making them particularly suited for use on oil platforms and cargo vessels carrying dangerous materials, such as chemical, oil and methane tankers. Many close via a watertight zipper, and some have pockets to hold a cellphone or other useful items.
How to choose
Choice will depend on the primary intended use of the suit. Factors include the nature of the work environment, frequency of use and the degree of danger of the surroundings.
Advantages
- Optimal emergency protection
- Superior protection in harsh conditions
Disadvantages
- Restricts freedom of movement