Floatation suits
How to choose this product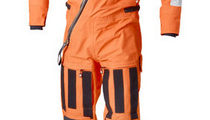 A flotation suit is a full-body garment enabling sailors, offshore workers and others to remain afloat in case of a fall into the water or an evacuation. It also offers excellent thermal protection.
Applications
This gear is sometimes referred to as a survival suit because it significantly retards the onset of hypothermia during prolonged periods in the water. Such garments are recommended for professional seamen, offshore platform workers, sea rescue personnel, racing or cruising sailors and in harsh weather conditions. In certain situations, SOLAS regulations require their use.
Technologies
Most of these suits are made of nylon, with watertight seals at the neck and wrists. Some have integrated booties and/or gloves. Reflective strips improve their visibility at night. Flotation is usually provided by layers of polystyrene sewn into the garment.

Certain versions are fireproof, making them particularly suited for use on oil platforms and cargo vessels carrying dangerous materials, such as chemical, oil and methane tankers. Many close via a watertight zipper, and some have pockets to hold a cellphone or other useful items.
How to choose
Choice will depend on the primary intended use of the suit. Factors include the nature of the work environment, frequency of use and the degree of danger of the surroundings.
Advantages
- Optimal emergency protection
- Superior protection in harsh conditions
Disadvantages
- Restricts freedom of movement
14
companies |
52
products (boat or nautical equipment)
Fire resistant
FLAMEGUARD MK2

Seasafe Systems Ltd
Ships Wheel and SOLAS approved Firemans Outfit Full Suit Ships Wheel and SOLAS approved Firemans Outfit comprising Helmet, Jacket, Trousers, Firemans Gloves (cotton backed/aluminised front recommended...
Stearns
A Stearns® Challenger™ Anti-Exposure Work Suit is the ultimate defense against the uncompromising cold water that seizes lakes, rivers and seas every year. Theyre designed to keep you warm...
DRIFLEX™

Stearns
Get waterproof protection that stands up to freezing water with the Stearns® Driflex™ Cold Water Rescue Suit. To meet the exacting demands of fire department and ice rescue personnel, the sonic-welded,...
MK1

International Safety Product
In the Intrepid range of immersion suits, tried and tested in the harshest environments, ISP supplies the world with some of its most highly regarded immersion suits. All comply with the latest MED (Shipswheel)...
MK8

International Safety Product
The Intrepid Marine Mk8 has been designed as an easy don, low cost, lightweight emergency Immersion suit that when packed in its zip pouch is small enough to be stored in a locker or at a workstation. The...
Filter by :
› New products

(1)

› Products with video

(1)
Extend the search
Search by manufacturer
Find a distributor
Search by catalog
Associated Terms
floatation wetsuits, floatation overalls, floatation coveralls