How to choose this product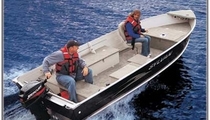 A fishing skiff is an open boat with virtually no amenities or equipment. It consists of a simple hull with an outboard motor. There is no piloting console, the motor's throttle handle serving as the only steering and control mechanism.
Applications
Particularly suited for day fishing trips, these craft feature an unencumbered deck plan where swivel chairs can be installed.