How to choose this product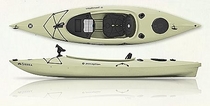 A fishing kayak has room for a single paddler, and is designed for line fishing.
Technologies
Most of these craft are made of polypropylene. A few models are of composite materials, making them lighter but also more fragile. The broad, stable hull is equipped with one or more rod holders. The seat must be comfortable enough to avoid fatigue, even after long hours in the same position.
How to choose
Since fishing requires patience, choose a comfortable, ergonomic arrangement appropriate for spending extended periods in a seated position. Polypropylene is heavy, but nearly indestructible. It can be grounded without suffering damage. Verify the number and size of storage compartments. Some models offer flexible configurations.
Advantages
- Stable and comfortable
- Storage space