The Online Boating and Maritime Exhibition

outboard cabin cruiser
701
Length: 7.4 m
The 701 Offshore is another superbly built and impeccably finished offering with the ride and handling to confidently venture out wide. Overall Length7.40m / 24'3″ Overall Beam2.50m / 8'2″ Deadrise21 deg Underfloor Fuel*230 Litres Horsepower ...
See the other products
Tristram 

outboard cabin cruiser
730 MODELS
Length: 7.4 m
The SHT model has been our bench mark since the beginning of our career. Boaties that want a no nonsence tough Alloy Hard Top with a shape that can deal with the harsh coastal conditions off the East Coast and around New Zealand. We have ...
See the other products
White Pointer Boats Ltd

outboard cabin cruiser
CHALLENGER 710
Length: 7.1 m
... rated hull. Your fishing trips will be the ultimate experience with the Challenger 710. The fishing features on board have been specifically selected, fitted and designed with your fishing ...
See the other products
Ocean Master Boats

outboard cabin cruiser
722 T
Length: 6.95 m
Hull length6.95 m Hull beam2.48 m CE certificationC6 / D8 Maximum power150 HP Weight without engine1420 kgs Maximal weight for engine and battery310 kgs Reserve buoyancyNo

outboard cabin cruiser
720 CT EVOLUTION
Length: 7.03 m
... of both boats is characterized by a reverse tilt of the windshield, which visually increases the interior dimensions of the cabin, less glare, less drip and rain drops down. Thanks to the shifted felling in the nose, ...
See the other products
TRIDENT Aluminium Boats

inboard cabin cruiser
Discovery
Length: 7.8 m
Ocean is a fresh world, also can be a great habitation; yacht on the other hand, not only provides luxurious life experience, also embodies a kind of exploration spirit. It brings extensive striving and creative motivity, to let people ...

outboard cabin cruiser
660 CRUISER XS
Length: 6.6 m
... μηχανή/without engine) HP max: 225 HP Design Category: C Persons: 7 Description Karel 660 Fishing Cruiser is the ideal boat for a day-ride, fishing or an excursion which requires ...

outboard cabin cruiser
565 CLASSIC XL
Length: 5.91 m
... CPC Ratings)6/450kgs Height on Trailer2.200m Length on Trailer (approx.)7.100m Width on Trailer2.450m Bunk Length 2.000m Cabin Head Room 0.900m Fuel Capacity (approx.) 165L Hull Weight (approx.) 750kg Total Road ...
See the other products
Buccaneer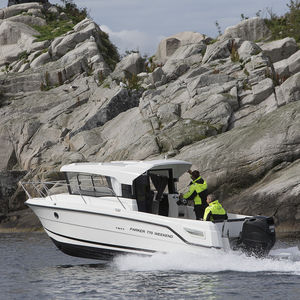 outboard cabin cruiser
770 Weekend
Length: 7.69 m
... basin and a functional galley area with refrigerator, cooker and sink. There are also four berths; a double in the forward cabin and another made from adapting the dining table area. There is a shower, seawater supply ...

catamaran cabin cruiser
3000
Length: 8.6 m
... compared to our 2700 Series equipped with similar power. 3000 SPECIFICATIONS Model Configurations Cuddy / Short Cabin / Long Cabin (Lock-up optional) / Walkabout Moulded Lengthof Hull 7.98m Shipping ...
See the other products
Noosa Cat Australia

inboard cabin cruiser
ST860
Length: 8.6 m
ST860, SECURITY AND MANEUVERABILITY ST860, a tailor-made cruiser. Practicality and spaciousness in a modern boat. An ideal fishing cruise for its dimensions.
See the other products
ST Boats

inboard cabin cruiser
Padi
Length: 9.3 m
... fisching Construction : Boatyard - Chantier Naval Gatto - GRP Features : 9.30 m x 3.30 m This boat was designed for sport fishing. 3 open versions were also delivered to the Réunion Island

inboard cabin cruiser
Adventure 900
Length: 9.22 m
... primarily designed for fishing enthusiasts but other marine fans find the great joy in spending time on these boats. Spacious cockpit allows for comfortable movement while fishing, and the cabin ...
See the other products
Atlantic Marine

catamaran cabin cruiser
Glacier Bay Edition 2770
Length: 8.23 m
... option A second entertainment center behind the seating area features a Corian top, and doubles as a fishing station with a 20-gallon livewell The cabin features Lonseal teak and holly sole, a big queen ...

outboard cabin cruiser
KINGFISHER 670
Length: 6.9 m
... a massive cockpit for diving, fishing and is stable at rest with its gull wing chine. Anchoring is from the helm and cleaning up is a breeze with full fibreglass liners, drained aft, and vinyl non-skid floors. The cabin ...

outboard cabin cruiser
Signature 22
Length: 7 m
The Radon Signature 22 incorporates the best hull design elements found in the Radon Signature 26, but scaled down to a 22 x 8.5 foot hull. Perfect for the sport fisherman or diver, the Signature 22 is fast, yet dry, with an unmatched ...
See the other products
Radon

outboard cabin cruiser
240 CUDDY KING
Length: 7.92 m
Length (including bracket) 7.9m / 26' Beam 2.6m/102" Bottom 243.84cm x 6.35mm / 96" x.250"(5086-H116) w/Reverse Chine Side 101.6cm x 4.06mm /40" x .160" (5086-H116) Dry Weight 2255 kg / 4970lbs Fuel 492.1 L / 121 USG diurnal fuel ...
See the other products
Weldcraft

outboard cabin cruiser
650 SOUWESTER
Length: 6.8 m
... switch Bilge pump Boarding platforms Bow rails, transom and hard top hand rails Bunk squabs Cabin hatch Carpet to cabin and hard top Curved glass windscreen and glass side ...
See the other products
Marco Boats

outboard cabin cruiser
PACIFIC CRUISER 240 ET
Length: 7.98 m
... fully-loaded fishing machine. Since it's a Hewescraft, you know it's built with high sides, a stable ride, and plenty of extras for anglers. The roomy deck and 40-gallon fish box certainly aren't there for sunbathers. ...

outboard cabin cruiser
24 DUCKWORTH
Length: 7.9 m
... stuff. The Duckworth Offshore features a full hardtop with forward-leaning windows, swept bow, insulated subfloor fish box, cabin subfloor storage, a roomy cuddy with cushions and lights, and lots more. Easy to customize. ...
See the other products
Duckworth

catamaran cabin cruiser
EXPRESS 30
Length: 9.09 m
The ArrowCat 30 charts a new course for family fun, exploring and entertaining. The roomy interior and comfortable sleeping arrangements of the ArrowCat 30 are ideal for family cruising. And the incredible stability of the ArrowCat 30 ...
See the other products
ArrowCat Marine

outboard cabin cruiser
Tuna 665 PilotHouse
Length: 6.6 m
... very innovative fishing boat with up to 130 HP engine has all the odds to be the best in this segment. Majority of equipment would be hidden in large pockets and cupboard all over the cockpit. Seaworthy hull is ideal ...

inboard cabin cruiser
SEMIFLY 28
Length: 8.8 m
A high-end sportsfisher/live-aboard cruiser, the Semifly 28 is designed to meet demands for greater space, comfort and reliability. Available in Semifly and Hardtop options. But don't just let us tell you how good it is -
See the other products
Dickey Boats Limited

outboard cabin cruiser
27 FISHER
Length: 8.42 m
To create this model, we used the style and concept of the Shiren 23 Fisher, and have "stretched" in length, with its proportional manga and created a boat, you can govern with the GNP, with a large bath , large hallways and safe, walk ...
See the other products
Shiren

outboard cabin cruiser
SPORTSMAN 2200
Length: 6.71 m
... day fisherman or a family of four looking to do some extended overnight cruising, the Sportsman model can do the job. The cabin includes a dinette, sleeping accommodation for four, ample storage space and room enough ...
See the other products
Sea Sport, Inc