How to choose this product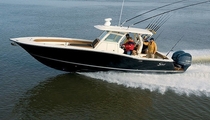 The two principal categories of fishing boat are commercial and recreational types.
Applications
Professional fishing boats are work craft intended for inshore or high-seas fishing. These include sardine and tuna boats, as well as trawlers. There are many types of sport fishing boat, often fitted out for a particular purpose.
Technologies
Professional vessels are equipped for a specific type of fishery. Sport fishing craft can take many different forms including open, walkaround, bay boat, bass boat and game-fishing yacht. All feature appropriate equipment such as fish wells, pole holders, depth finders, unencumbered deck space and flying bridge to facilitate locating fish.
How to choose
Choice of craft will depend on the type of fishing to be done as well as typical sea and weather conditions in the intended area of operation.