Fire alarms for ships
How to choose this product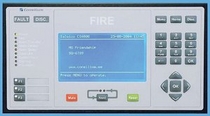 A ships fire alarm is linked to a panel indicating the time of outbreak, the affected area and the measures taken to combat the fire.
Applications
Fire alarm systems can be installed in all types of ship.
Technologies
A fire alarm control panel is located on the ship's bridge. It is linked to a network of smoke and heat detectors, and to alarm buttons. Activation sends an alarm and information regarding the outbreak to the central panel so that the watch officer can evaluate the situation.
How to choose
The number of firefighting zones on board will determine the placement of detectors and the capacity of the centralized system.
Advantages
- Alarm centralization
3
companies |
4
products (boat or nautical equipment)
SS-770

Fireboy - Xintex
The SS-770 Smoke and Fire Alarm is a general purpose smoke and fire alarm suitable for marine and recreational vehicle use. The unit is 9V battery...
Metalcraft
Sea-Fire's CO Detector will alert the boater to potentially dangerous situations. Carbon Monoxide (CO) is produced when any type of fuel is incompletely...
Extend the search
Search by manufacturer
Search by catalog