Fender hooks
How to choose this product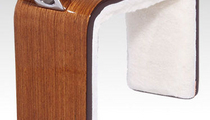 A fender hook is used to attach fenders quickly and easily, without having to tie any knots. It also improves bulwark and lifeline protection.
Applications
These devices are mostly found aboard luxury yachts and vessels whose appearance is of particular importance. They are also useful on boats with solid gunwales or bulwarks without lifelines.
Technologies
While such hooks have many different configurations, the goal remains attaching fenders without having to tie a knot. In addition to simple metal or plastic hooks, there are more complex, padded U-shaped models with cam cleats and fairleads, sometimes covered in carbon or leather. A clamping system allows rapid, easy adjustment of fender height.
How to choose
The hook system will be chosen as a function of the vessel's guardrails, stanchions and other bulwark characteristics.
10
companies |
35
products (boat or nautical equipment)
For yachts
Fendercovers Worldwide
Manufactured from top quality stainless steel, leather and sheepskin, Fendequip fenderHooks are the last word in style and protection...
Filter by :
› New products

(1)

› Products with video

(0)
Refine the search
Fender hooks
Extend the search
Search by manufacturer
Find a distributor
Search by catalog