The Online Boating and Maritime Exhibition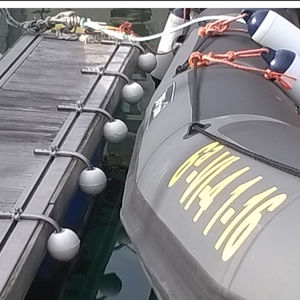 marina fender
Fender rotatable EVA Finger Dock. (Set 5 units)
... the time of docking the ship enters only with its own inertia. When the boat touches the bow, or corresponding quarter, fender rotary and absorbs the impact tour channeling to the boat mooring. Unlike an inflatable ...

Dock Bumpers Polyethylene construction 3 feet of adjustable height available in vertical or horizontal design available in white or black easy to fasten to side frame on dock

DockEdge+ Premium PVC products are the best line of PVC bumpers available on the market today. Our PVC products also provide greater protection for bathers against splintering and skin abrasions.
See the other products
Dock Edge

Pneumatic fender is a leading anti-collision device for marine application in the world today. This fender is made of synthetic-cord-reinforced rubber sheet with compressed air inside to enable it to ...
See the other products
Eversafe Marine Engineering Company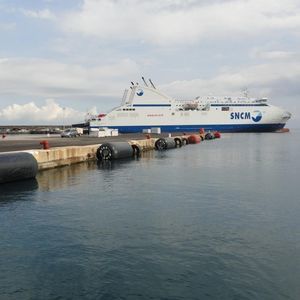 ... guaranteed. This manufacturing concept allows NIBS fenders to undergo significant compression cycles without degradation of baseline characteristics. In order to increase lifetime of NIBS France's fenders, ...
See the other products
NIBS France

Fendequip maxiStow inflatable fenders are the perfect choice for small, medium and larger size Sailing Yachts and Motor Yachts. Light and easy to handle when inflated and easily stowable into a small locker when deflated. Made ...

... flat fenders are the high pressure maintained within the fender (up to 1 bar) and their resistance to wear and tear. Our inflatable fenders are also highly practical: when deflated for ...

Advantages Safe for excess load The reaction force of a floating pneumatic fender does not increase sharply even under excess load. Therefore, these fenders perform extremely well under such conditions ...
See the other products
FenderCare

sailboat fender
197742 | 473215
SOLOVELA solid fender serves as a multipurpose boat fender and it is the best in its class by offering optimum shock absorption and lifetime performance. It is manufactured from Flexible Integral PU Skin ...
See the other products
Ocean s.r.l.

Barbour Plastics' Urethane Foam Dock Bumpers are a great new product offering for marinas, dock builders, home docks, and even boat builders too! We now have both a 4 inch wide Heavy Duty Dock Bumper and a 10 inch wide Mega Heavy Duty ...

Our 5′ Hullkushion is our go-to rafting fender. At 5′ it is long enough to be used alone for boats up to 24′. Above that we recommend buying a set of two for the ultimate protection! When not in use it packs neatly ...
See the other products
IFLB Designs

... rings on each end allows FEND-AIR fenders to be rigged horizontally or vertically. High quality inflatable boat valve for convenient inflation or deflation for storage. Light weight and easy to deploy. FEND-AIR fenders ...

Soft PVC floating dock corner bumper rivets to deck surface and protects your watercraft from the corner of the dock.
See the other products
FLOE INTERNATIONAL, INC.

harbor fender
SC1250 / SC2000
Description: Features: Super cell dock fenders has been improved over the ordinary cell fender at the buckling point and in the shape of the edge of the leg.
See the other products
Nanjing Deers Industrial Co., Ltd

... D" Type rubber fender displays higher energy absorption capacity. It can be mounted on quay wall by means of anchor bolts. It is also applicable to the tug and working ship, jetties and wharves, small size ship, etc. ...
See the other products
TANTEX RUBBER WORKS

... : DockGuard Leg Fenders are compression moulded into a rhomboid shape for optimum energy absorption. The twin notches in the sides of each fender ensure it will compress at exactly the same point at ...
See the other products
DockGuard

See the other products
Hellohasea

... International's MCN cone type fender represents the most modern technology being offered in the fender industry today. MCN fenders have the highest energy to reaction ratios of any fender ...
See the other products
Maritime International

marina fender
FRAME BUMPER
Wahoo Docks proprietary Mainframe Bumper provides unparalleled protection for watercraft mooring. When placed around the perimeter of a dock, it allows boats to moor any place on the dock in a safe, protected manner. Durable HDPE ...
See the other products
Wahoo Docks

... inflatable fenders with high UV-resistance. The lightweight inflating fenders measure height 75 x 30 cm and only weight 125 gram. Each fender has a strong stainless ring on top and ...

marina fender
Sistema Zero Modular
The Sistema Zero Modular Dock Fender. Made from specialized EVA foam designed for marine use. Made to permanently attach to any dock and keep your boats protected. Modular design allows for installation around corners. ...
See the other products
Aere Docking Solutions

Available in Chain Through or Swivel Eye type, Griffin-Woodhouse support buoys are manufactured only from a polyethylene foam core coated by polyurethane elastomer skin. They are therefore highly durable, being resistant to impact, abrasion, ...
See the other products
Griffin-Woodhouse

... tender fender products to suit any yacht and any tender. Whilst every yacht will require some customisation of these designs to suit the transom profile, the choice of product will depend on the tender type and weight. Each ...

yacht fender
Multifender Premium MULTIROLLER
For rapid installation on the yacht structure, the multirollers are equipped as standard with the well-proven multiplex Quick-Lock-System. The mechanics function with a bayonet lock, which offers the highest level of safety in seconds ...
See the other products
Multiplex GmbH

Double eye boat fender with a reinforced moulded eye at each end. Suitable for vertical or horizontal use, they are ideal for leisure motorboats, yachts and work boats.
See the other products
Made 2 Measure Fenders