How to choose this product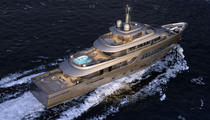 Explorer yachts are motor-boats over 15 meters long with designs favoring resistance, energy autonomy and exploration options such as tenders, helicopter landing areas, submarine equipment, cranes, laboratories, etc.
Applications
Such yachts are designed for long-term navigation in distant locations (e.g. among polar areas or desert islands).

They can be used for luxury chartering, most models featuring the amenities of Mediterranean yachts. The interior areas are often designed by famous naval architects and can feature swimming pools, jacuzzis, sports rooms, cinema rooms, etc.
Technologies
The most common structural materials are aluminum and steel, because of their resistance (e.g. ice-breaking).

Most models have displacement hulls and gigantic fuel tanks to maximize autonomy, speed not being a priority. Some exploration yachts can circumnavigate the globe twice before having to refuel.

They of course feature numerous exploration installations: a helipad, fully-equipped tenders, cranes, and even miniature submarines.

Such yachts are generally custom-designed and built in specialized shipyards.
How to choose
Establish a detailed project scope statement.

A bar menu on the upper right hand side of this page will help you browse models of different lengths.