How to choose this product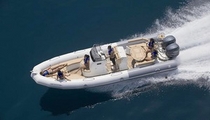 Rigid inflatables range from small tenders to luxury models. Equipment can be standard or optional.
Applications
The rigid inflatable will be equipped in light of available budget, use and size.
Technologies
A partial list of the most common deck configurations includes cabin options, console location, roll bar and fore or aft sundeck. Motors can be inboard or outboard, single or multiple. Other possible features include shower, head, T-top for shade and teak deck.
How to choose
Choice among manufacturers' varying configurations and standard or optional equipment should be made with use requirements in mind. Particular attention should be paid to finish quality.
Advantages
- Multiple configuration options
- Adaptable to multiple uses