How to choose this product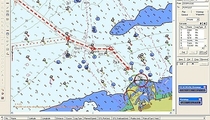 An electronic nautical chart is a digital version of a nautical chart. NauticExpo offers both of the two main types, vector and raster.
Applications
The primary function of such charts is to represent a specific maritime area, along with its dangers and navigational aids. These include buoys, reefs, shallows, traffic lanes, cardinal directions and other information.
Technologies
There are two types of electronic chart. Vector charts are generated from a hydrographic service data base. Content is standardized and is used with an electronic chart display information system (ECDIS). Raster charts are scanned digital copies of paper charts published by a hydrographic service.
How to choose
Vector charts offer much more data and functionality than raster charts. A chart will be chosen as a function of the area to be sailed.
Advantages
- Multi-functional
- Compact