How to choose this product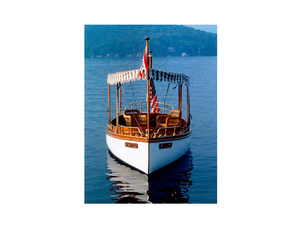 An electric open boat is an undecked vessel propelled by an electric motor.
Applications
These craft are used essentially for calm-water outings on rivers, lakes and lagoons. Their silent propulsion makes them particularly well-suited for fishing and wildlife photography.
Technologies
Such vessels have no deck. Inboard models have the motor in a hold, along with the batteries, though there are also electric outboards. They usually have seats and a Bimini, hard top or other shelter to protect passengers from sun or rain. Wood, fiberglass, carbon and other materials are used to build these boats. Their small dimensions limit motor size and power, especially given the significant additional weight of the batteries.
Advantages
- Silent
- No fuel required
Disadvantages
- Limited range
- Day use only
- Limited lifespan and weight of batteries