How to choose this product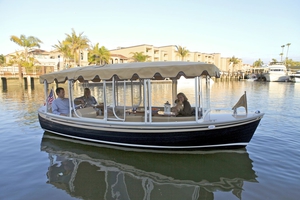 An electric center console boat has an electric motor and an open deck plan whose organization is the most important factor in the vessel's use.
Applications
Such craft are ideal for wildlife photography, hunting and fishing since their silent operation will not frighten prey. In addition, they emit no CO2, making them attractive to environmentally-conscious buyers.
Technologies
The electric motor is powered by a group of batteries, whose power is expressed in kW. The batteries can be recharged at a dockside charging station, by a generator or solar panels, which are sometimes built into the craft. While silent, these vessels have limited speed and range.

Hybrid configuration includes a diesel back-up for use when the batteries are flat. The hull is generally made of a glass or carbon composite to reduce weight for additional speed and range. There are monohull, catamaran and trimaran versions, some with Bimini top or a rigid or fabric roof.
How to choose
Additional power offers greater speed, but requires a large number of batteries, constituting significant extra weight. Batteries have a limited lifespan and must be replaced after a certain number of recharges. The number of seats, sundecks and other amenities will depend on the boat's intended use, be it for fishing or simple outings on a lake, river or in choppy seas.
Advantages
- Silent
- No emissions
- No fuel consumption
Disadvantages
- Heavy, limited-life batteries
- Limited speed and range