How to choose this product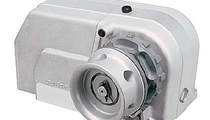 An electric windlass is a type of winch for raising and lowering an anchor and its chain via a remote-controlled electric motor.
Applications
An electric windlass is recommended whenever the combined weight of the anchor and chain exceeds a certain limit. They are indispensable on commercial ships.
Technologies
These devices are driven by motors of varying power, depending on the diameter and weight of the anchor chain. They range from 300 watts for a small recreational vessel to several thousand watts for a large ship.

A windlass can be horizontal or vertical depending on the orientation of its drive axis, though the latter is properly called a capstan. It has a wildcat, or gypsy, a wheel with indentations to hold the links as the chain passes over it. Some models feature a smooth drum, a warping head, for handling the cable or line portion of the ground tackle.
How to choose
Windlasses are designed for specific vessel weight and chain diameter. These specifications must be taken into account to select the right model. The choice between a horizontal and a vertical unit will depend on the size and configuration of the vessel's foredeck, bow and chain locker.
Advantages
- Effortless weighing of heavy tackle
- Better chain control while anchoring
Disadvantages
- Very high power consumption
- Requires thick, high-amperage wiring