How to choose this product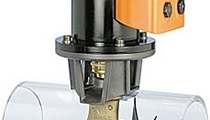 An electric bow thruster is one driven by an electric motor. Most are mounted in a transverse tunnel beneath the waterline at the bow. Boats and yachts are sometimes fitted with retractable bow thrusters.
Applications
The bow thruster enables lateral movement of the bow, facilitating maneuvers.
Technologies
These devices can be powered by an AC or DC electric motor, and usually have a fixed-pitch propeller. There is a wide range of power options.
How to choose
Placement of the bow thruster is a prime criterion for selection. Sailboats can be fitted with retractable bow thrusters, to be deployed only when maneuvers require. The thruster's power needs is another factor.
Advantages
- Wide range of power
Disadvantages
- Strong current can affect efficacy