How to choose this product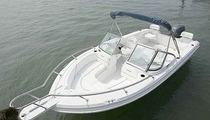 A dual console boat is an open craft with a console for the driver on one side and another for the passenger on the other.
Applications
As with all open craft, the dual-console version is ideal for day outings.
Technologies
While the second console constitutes an additional obstruction, it provides a windshield for the passenger, as well as additional stowage. Depending on size, these vessels may have large sundecks forward and, occasionally, aft, in the form of a convertible bench whose back can be folded flat.
How to choose
The enormous choice of craft in this category allows for the choice of the equipment and configuration best suited to your particular boating needs.
Advantages
- Protection for the passenger
- Additional stowage in second console
- Trailerable
- Extensive choice of motors
Disadvantages
- Less deck space
- Narrow passage between consoles