How to choose this product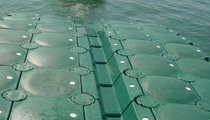 A drive-on dock allows small powerboats and jet-skis to be pulled out of the water easily for dry storage between outings. They are generally floating
Applications
Such docks are mostly used by jet-ski or small motorboat owners. Dry storage helps keep the hull clean and extends the craft's lifespan. Some marinas and boat clubs offer their members such facilities.
Technologies
Most of these structures are made of watertight, buoyant polystyrene blocks. There are both unitary and modular systems, the latter offering multiple configurations. Some docks have V- or U-shaped grooves for motorboat keels. Some models can be slanted via ballasting to facilitate removing the craft from the water.

Certain models are designed for a particular type of craft, while others are multipurpose. Most cannot handle vessels over about six meters long. Some have rollers to facilitate vessel launch and recovery.
How to choose
Choice will depend on the number and size of craft to be stored. Modular docks offer the possibility of adapting the configuration to nearly any locale
Advantages
- Keeps the hull free of growth
- Extends useful vessel life
Disadvantages
- For small craft only