How to choose this product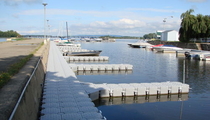 A dock finger is a small floating pontoon separating and offering access to berthed boats in a marina, as well as providing mooring line attachment points.
Applications
These structures are indispensable features of marinas subject to significant tidal variation or other phenomena affecting water level. They also are used by yacht clubs and boating centers for shoreline protection or development.
Technologies
Fingers generally consist of rot-resistant or synthetic wood walkways supported by an aluminum framework resting on air-filled chambers made of laminate material. Some consist of floating modular plastic units without any additional structure. Incorporating standard fasteners, the modules permit flexible reorganization and reconfiguration of the marina facilities.

Some are equipped with lighting pedestals and all have cleats, bollards and/or mooring rings. Certain models are anchored to the bottom via a system of chains linked to a master chain. Others are held in place by pilings, with a system that allows them to slide up and down with changing water levels. In some cases, no additional anchoring device is necessary.
How to choose
Choice will depend on marina size and configuration, and the number and size of boats to be accommodated. Manufacturers will propose one or more plans based on this information.