How to choose this product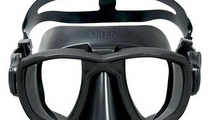 A dive mask is indispensable for clear vision underwater. The human eye is unable to focus when in direct contact with water, which has a different refractive index than air. The air trapped by the mask allows the eyes to focus, albeit with some size distortion.
Applications
Simple masks are suitable for recreational scuba or freediving. Full-face masks and other more sophisticated gear is sometimes used by commercial or other professional divers in the realms of archaeology, speleology, technical diving or on very deep sites.
Technologies
The simplest masks generally consist of a single lens in a polycarbonate frame with a watertight, silicone skirt. Twin-lens models have two separate panes. This improves the seal, but at the cost of some visibility. Full-face masks cover the entire face and include the second stage of the regulator. Some include mounts for lights, cameras or other accessories. Most of these models have an anti-fogging system.
How to choose
Every mask is different, as is every face. To test for proper fit, the mask should be held firmly against the face without using the strap. After inhaling through the nose, the mask should remain in place by itself, at least for a few seconds. The mask should remain sealed above the upper lip when the nose piece is pinched.

Intended use will determine choice of a recreational model or one offering additional features for technical or professional applications. Consider a full-face mask if the situation warrants. Lens quality will affect visual clarity and color rendition. The wide selection includes models for children.