Dinghies
20 companies | 39 products
How to choose this product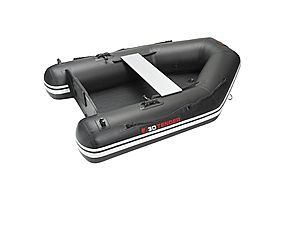 A dinghy is a boat often used as a tender to a larger vessel. While usually quite small, yacht tenders can reach several meters in length.
Applications
These craft are used to shuttle between a moored vessel and the shore. They also can serve for recreation, fishing, towed water sports and other functions.
Technologies
Small models are usually inflatable or folding. They can be rigid or rigid inflatables, be rowed or have inboard or outboard motors. Tenders for yachts and large boats are often well-equipped rigid inflatables.
How to choose
The main boat's size and stowage facilities must be taken into account. The dinghy's weight and propulsion will depend on intended use. Oars are often sufficient for trips ashore in a sheltered mooring. For longer distances, an outboard motor is recommended. Current, chop and other environmental factors must be considered.