How to choose this product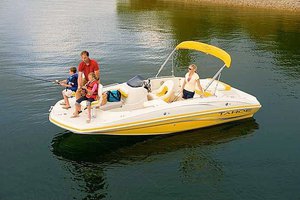 These craft are common in the United States, where they are used primarily on lakes. The broad bow and flat deck make them suitable for a range of different activities.
Applications
Such boats are often used for fishing and other water sports.
Technologies
Deck boats differ from one another primarily in hull configuration. Those suitable for use at sea have a V-shaped hull. This means that the bow must be narrower than the stern to avoid stability problems. Thus, most are destined for use on inland waterways where there are few waves.

However, those with the finer entry of a classic bow-rider runabout can be used at sea. Some have twin hulls. They resemble pontoon boats, but are capable of higher speeds.
How to choose
Choice will depend essentially on how the boat will be used. For inland waterways, a hull with a flat bottom will slide over the water more easily. A V-hull is more suitable for coastal cruising, but offers less usable space.

For fishing, the presence of live fish wells and other accessories is also a factor. On the other hand, for simply relaxing on the water, consider the number and comfort of seats and options such as a refrigerator and a stereo system.
Advantages
- Multi-use craft
Disadvantages
- Flat-bottomed models lack seaworthiness