How to choose this product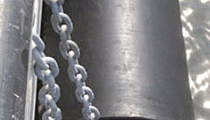 A cylindrical fender protects both the vessel and the dock from collision damage during docking and departure. A fender commonly used on tugboats is also known as a cylindrical fender.
Applications
This is one of the oldest types of fender. Its adaptability allows it to be used on general cargo docks, in Ro-Ro port terminals, oil platforms, floating platforms of all types, fishing piers and other port facilities.
Technologies
Such a fender is a large, rubber cylinder. It is hollow, allowing it to flex to absorb the shock of impact. A metal bar running the length of its interior is attached to the dock by chains.
How to choose
Fender size will depend on the dimensions of the ships using the dock.
Advantages
- Adaptable
- Inexpensive
- Simple
Disadvantages
- Limited elasticity