How to choose this product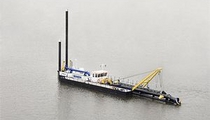 A cutter-suction dredger is used to dredge calcareous or other hard or compact sea bottom material that cannot be simply sucked up. Most are barges without engines, but a small number are self-propelled.
Applications
These vessels are used to dredge channels or during the construction of port facilities.
Technologies
The vessel is held in place by two spud poles at the stern and two anchors placed far to port and starboard of the bow. As the bow swings between the anchors, the stern rotates around first one and then the other spud pole, which are alternately raised and lowered.

The dredge head is fitted with a rotary cutting device which breaks up the bottom material before it is sucked up. The spoil/water mixture is usually pumped ashore or into barges via a floating pipeline.
How to choose
Many factors must be taken into account when choosing. These include torque and cutter power, suction pump power, presence or absence of propulsion and thrusters, length of the cutter arm and maximum working depth.