How to choose this product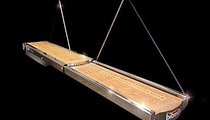 The custom-made gangway resembles a small footbridge linking vessel to dock. Design and dimensions can differ greatly. NauticExpo offers a wide variety of custom-made gangways for boats, yachts and super-yachts.
Applications
These gangways facilitate boarding and disembarkation by bridging the gap between dock and vessel.
Technologies
Design, configuration and materials differ from one gangway to another. Generally, custom-made versions resemble a footbridge made of wood or metal. Folding and telescopic models may operate using small electric motors.
How to choose
Choice will depend primarily on vessel type and size. Telescopic and folding models should be considered in order to optimize use of deck space.