How to choose this product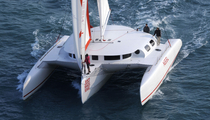 Cruising trimarans are triple-hull sail-boats (one central hull and two lateral buoyancy hulls). They are fully-equipped for cruising.
Applications
Trimarans are inherently rapid. They are ideal for sailors seeking thrilling, high-speed cruising.

Such crafts are rarely available for rent, trimarans being much more difficult to equip than catamarans or single-hull boats.
Technologies
Trimaran structural materials depend on the craft's speed requirements. Trimarans can be made of composite materials (fiberglass/polyester fiber) or state-of-the-art lightweight materials such as Nomex®/carbon honeycomb, for example.

Living spaces are exiguous. Cabins can generally only be installed in the central hull, the buoyancy hulls being too narrow. Trimarans can feature bedrooms, a living room and a toilet room.

Cruising trimarans buoyancy hulls can sometimes be folded in so as to decrease their size in harbors; the crafts become as compact as normal boats, and can be transported on roads.

Such crafts feature a vast sail surface and require some sailing experience to be properly used. National nautical regulations often require trimarans (and more genreally all multi-hull crafts) to be unsinkable.
How to choose
A bar menu on the upper right-hand side of this page will allow you to browse models of different lengths.
Advantages
- Speed and thrills
Disadvantages
- Space occupied when moored
- Limited live-aboard space
- Unsuitable for beginners