How to choose this product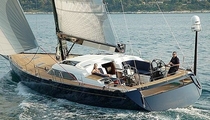 The cruising sailing yacht is designed for long voyages. The cabin arrangement often stresses comfort, while the deck is more functional for handling ease with reduced crew.
Applications
A boat longer than 15 meters often suggests blue-water cruising, transoceanic passages and the exploration of new horizons.
Technologies
The cruising sailing yacht often has at least three cabins, and more than five on the largest versions. Deck and sail plans differ according to the choice of central or open cockpit, deck salon, ketch or other rig, etc.
How to choose
The larger the boat, the higher the price. A larger budget offers options for custom features unavailable on smaller craft.