ocean cruising sailboat
EXPLORATION 45
Length: 14.21 m
A boat designed to sail and live aboard both in high latitudes and tropical waters Key Specification... Specifications Length: 14.21 m Lwl : 12.57 m Bmax: 4.44 m Draft: 1.14/2.90 m Displacement: 14.1 T Offshore category: 6/8 ...

Length: 11.1 m
... continues Island Packet's reputation as a benchmark for excellence. Fundamental to Island Packet's legendary status among the cruising community is our exclusive Full Foil Keel®. Providing a combination of seakeeping, ...
See the other products
Island Packet

Length: 11.53 m
... superior seakeeping and delightful sailing qualities that will be appreciated as much by the weekend sailor as by the couple cruising the world. From the large, comfortable cockpit to the broad anchor platform, there ...
See the other products
Island Packet

Length: 13.7 m
Perfectly set for distance cruising with the big boat comforts of central cockpit and large, full beam, aft master suite, the Contest 45CS is a familiar sight on the circumnavigator's circuit. With primarily a two sleeping ...

Length: 14.99 m
A proven all-rounder in bluewater adventuring and fast cruising, the three-cabin, two heads Contest 50CS reflects well the sound principles of the long running design partnership with Georg Nissen. Clean yet accommodating ...

Length: 9.52 m
... larger crew This compact cruiser, Delphia 29 is designed specifically to provide maximum performance for inshore voyages and cruising inland waterways whilst combining superlative nautical properties with roominess and ...
See the other products
DELPHIA Yachts

Length: 9.85 m
The Delphia 31 is the smallest ocean-going yacht in Delphia's range. The concept was to achieve as much interior space and light as possible for a 31-foot boat. The vessel is certainly made special by its interior design.The first thing ...
See the other products
DELPHIA Yachts

fast cruising sailboat
SE 23
Length: 7.11 m
The all new Saffier Se 23 ft is designed for those whom enjoy quality, harmonic lines and great sailing performance. The ideal small Yacht to enjoy a nice day of sailing with friends or family, but also to finish with results while racing ...

Length: 9.6 m
The Saffier Se 33 is designed as a seaworthy daysailer with extraordinary sailing potential in combination with a luxury feel of sailing. A powerfull rigg, fast underwater hull in combination with a moderen T bulp keel, a fixed bowsprit ...


Length: 12.88 m
New M-Series X-Type yachts are designed to dial-up our M-Series with enhanced sailing performance. We started with the award-winning quality, distinctive good looks, and innovative engineering that goes into every M-Series we build, then ...

Length: 14.35 m
With this latest model Solaris surpasses the standards set by itself. The Solaris 47 is the first and only model in this size to combine all the features and innovations to enable a high-performance boat to be easily sailed even with ...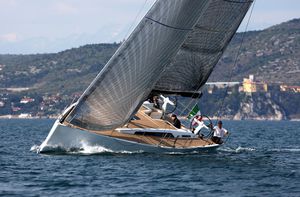 Length: 15.4 m
After the success of the 48-footer, which was first introduced in 2006 and which is still a reference when it comes to design, performance and functionality to all owners, designers and engineers, Solaris renews the challenge in the 15-meter ...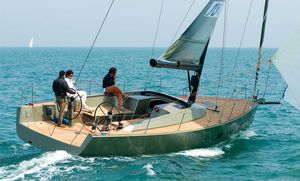 Length: 12.8 m
Length overall 12,80 m Waterline length 11,15 m Width 3,80 m Draft 2,50 m Reduced draft 2,25 m Displacement 6.400 Kg Ballast 2.450 Kg Main sail area + jib 108% 87 m2 Main sail 64 m2 Jib 108%/td> 33 m2 Gennaker 180-220 m2 Engine 40 Hp Fuel ...
See the other products
Sly Yachts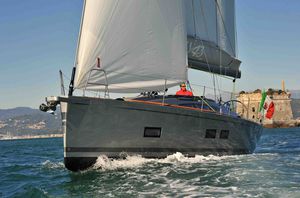 fast cruising sailboat
43
Length: 12.97 m
Length overall 12,97 m Waterline length 11,21 m Width 3,96 m Draft 2,55 m Reduced draft 2,25 m Displacement 7.880 Kg Ballast 2.520 Kg Main sail area + jib 105% 111,50 m2 Main sail 59,70 m2 Jib 105%/td> 51,75 m2 Gennaker 180-220 m2 Engine 40 ...
See the other products
Sly Yachts


cruising sailboat
ADVENTURE 26
Length: 8.22 m
If 6'2″ standing headroom is required and longer term adventures are your goal then the Adventure 26 is the ideal boat. A very simple to handle Bermudan rig allows quick passage making and low maintenance / down time. A separate forward ...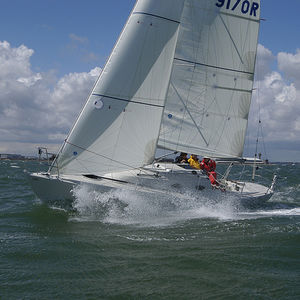 cruising sailboat
MYSTERY 30
Length: 9.22 m
... bespoke details as her larger sister ship, the Mystery 35. The Mystery 30 has everything, a comfortable interior for family cruising, stunning traditional lines, excellent stability and outstanding sailing performance.

Length: 9.42 m
"THE DREAM YACHT WITHIN REACH" A Hallberg-Rassy is by far the number one brand most sailors dream of. The Hallberg-Rassy 310 is the dream yacht within reach. Easy to handle The Hallberg-Rassy 310 is easy to sail with her contemporary ...
See the other products
Hallberg-Rassy

Length: 10.32 m
PLEASANT SAILING AND COMFORT IN A HANDSOME FORMAT The Hallberg-Rassy 342 is a complete new design that gives a little more of everything than her predecessor, the almost revolutionary 34, and at the same time offers all the good values ...
See the other products
Hallberg-Rassy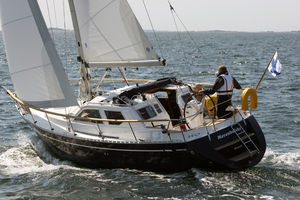 Length: 10 m
The youthful Nauticat 321 offers superb accommodation and quality of build and attention to smallest detail. The interior of the Nauticat 321 is a showpiece of the Nauticat craftsmanship. The Nauticat 321 features two staterooms, a large ...
See the other products
Nauticat

Length: 10.6 m
The Nauticat 351 is a completely renewed model based on the well-known Nauticat 35. In comparison with the 35, the 351 features a new deck design, which resembles the one of the Nauticat 37, including a large u-shaped seat for helmsman, ...
See the other products
Nauticat

cruising sailboat
JPK 38 FAST CRUISER
Length: 11.38 m

See the other products
Moody

See the other products
Moody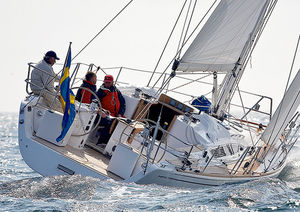 Length: 12.7 m
The name Maxi has for decades, been synonymous with well-builtboats which, due to their high quality, have ensured that the company has carved itself out a special reputation within the boat world. Today, Maxi Yachts manufactures yachts ...

Length: 12.16 m
... With the new Maxi 1200 I wanted to create a boat which is safe and easy to sail. Her lines are clean and elegant, designed for cruising and performance sailing with family and friends. She's a real Gentelman's cruiser ...

cruising sailboat
Harbor 25
Length: 7.85 m
... main. It is also equipped with an inboard engine, a head compartment for full-sized people, and bunks for naps and overnight cruising. The self-bailing cockpit of the Harbor 25 is eight feet in length and comfortably ...

Length: 10.8 m
In 1985 the yard launched the Degerö 35 S, a heavy displacement blue water cruising yacht with a distinctive curved transom, like her smaller sister. Designed by Håkan Södergren from Sweden, she has a long fin keel, a ...
See the other products
Degerö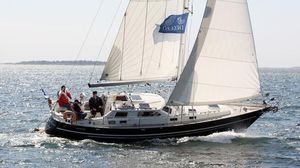 Length: 10.85 m
Year 2004, at the June Finnish "Floating" Show, the new Degerö 36 DS was launched. Based on the hull of the 35 S, and designed by Håkan Södergren, she has the benefits of the deck saloon and internal helm coupled with the traditional ...
See the other products
Degerö

cruising sailboat
CAMPUS 7.4
Length: 7.45 m
Smaller and better Fabola Campus 7.4 is a new type of yacht. In the car industry it´s called "downsizing". It´s about creating smaller cars that is more efficient in material use and fuel consumption, and still with performance due to ...

fast cruising sailboat
ICE 33
Length: 9.99 m
The MATARAN MK3 project, made by Felci Yachts Design, is the first ICE33 produced and represents our very latest generation of racing boats. We were asked to design a simple handling , no compromise boat , 10 metre-long mono hull, conceived ...

Length: 13.45 m
The Felci 44 Ocean Cruiser was created as a boat designed for cruising and blue water navigation in the true sense of the word. The airy, practical internal spaces form an integral part of a marine boat that combines ...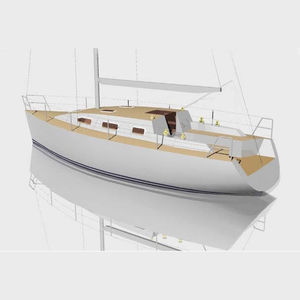 cruising sailboat
M&L 30 S
Length: 9 m
M&L 30 S is a modern sailing-yacht with round-bilge hull made of aluminium to reduce her weight. Telescopic keel and rudder allow her to navigate in shallow waters. Due to reduced weight it is possible to transport her using car. She ...