The Online Boating and Maritime Exhibition

cruising sailboat
FOCUS 800 DESIGN
Length: 8 m
See the other products
Deltania Yachts

coastal cruising sailboat
FOCUS 750
Length: 7.5 m
Length overall 7.5 m Waterline length 7.3 m Beam 2.5 m Draft 1.5 m Min. draft 0.28 m Displacement 1300.0 kg Total weight 1300.0 kg Centreboard weight 1300.0 kg Ballast weight 200.0 kg Main sail area 20.0 m2 Genoa area 11.5 m2 Genoa/jib ...
See the other products
Deltania Yachts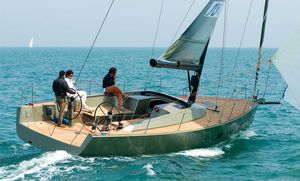 Length: 12.8 m
Length overall 12,80 m Waterline length 11,15 m Width 3,80 m Draft 2,50 m Reduced draft 2,25 m Displacement 6.400 Kg Ballast 2.450 Kg Main sail area + jib 108% 87 m2 Main sail 64 m2 Jib 108%/td> 33 m2 Gennaker 180-220 m2 Engine 40 Hp Fuel ...
See the other products
Sly Yachts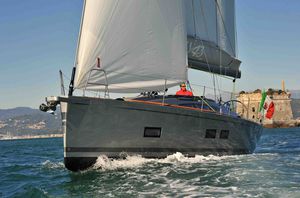 fast cruising sailboat
43
Length: 13 m
Length overall12,97 mWaterline length11,21 mWidth3,96 mDraft2,55 mReduced draft2,25 mDisplacement7.880 KgBallast2.520 KgMain sail area + jib 105%111,50 m2Main sail59,70 m2Jib 105%/td>51,75 m2Gennaker180-220 m2Engine40 HpFuel tank170 LtWater ...
See the other products
Sly Yachts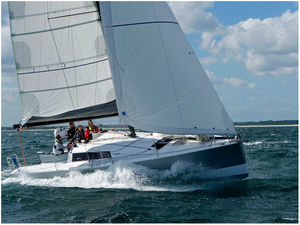 cruising sailboat
POGO 30
Length: 9.14 m
A truly versatile yacht for very fast offshore sailing and coastal sailing (lifting keel), ideal for a small crew or family. Length of 30' (9.14 m) and beam of 3.70 m. The Pogo30 is therefore more powerful than the Pogo8.50, with its ...
See the other products
Pogo Structures

fast cruising sailboat
POGO 36
Length: 10.86 m
The Pogo 36 is the archetype of the new generation cruiser. Hull design and sandwich construction are directly inspired from our offshore racing range. The bright inside layout is extraordinary convinient whether you are mooring or sailing. ...
See the other products
Pogo Structures

cruising sailboat
OVNI 365
Length: 11.94 m
... vessel approval, its comfort and its stunning performances are concerned. Upwind or downwind, on long trips or just coastal cruising, the OVNI 365 will satisfy the most demanding of skippers. On the wind as at running ...
See the other products
ALUBAT CHANTIER NAVAL

cruising sailboat
OVNI 395
Length: 12.68 m
The smooth and accurate helm control will say a lot for of its nautical qualities: remaining both stiff in a breeze and efficient in performance, this Briand plan must be tried out… With her generous forms and the quality of the installed ...
See the other products
ALUBAT CHANTIER NAVAL

Length: 9.42 m
"THE DREAM YACHT WITHIN REACH" A Hallberg-Rassy is by far the number one brand most sailors dream of. The Hallberg-Rassy 310 is the dream yacht within reach. Easy to handle The Hallberg-Rassy 310 is easy to sail with her contemporary ...
See the other products
Hallberg-Rassy

Length: 11.35 m
WINNER OF EUROPEAN YACHT OF THE YEAR - LUXURY CRUISER The Hallberg-Rassy 372 is optimized for comfortable and fast family cruising. She will take you anywhere, anytime. Compared to the Hallberg-Rassy 37, the 372 is only ...
See the other products
Hallberg-Rassy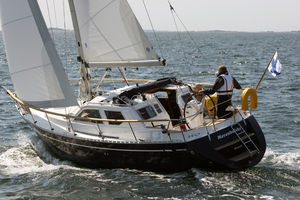 Length: 10 m
The youthful Nauticat 321 offers superb accommodation and quality of build and attention to smallest detail. The interior of the Nauticat 321 is a showpiece of the Nauticat craftsmanship. The Nauticat 321 features two staterooms, a large ...
See the other products
Nauticat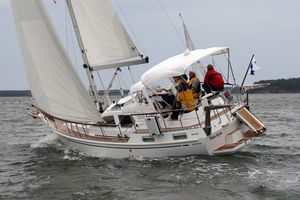 Length: 10.6 m
The Nauticat 351 is a completely renewed model based on the well-known Nauticat 35. In comparison with the 35, the 351 features a new deck design, which resembles the one of the Nauticat 37, including a large u-shaped seat for helmsman, ...
See the other products
Nauticat

ocean cruising sailboat
EXPLORATION 45
Length: 14.21 m
A boat designed to sail and live aboard both in high latitudes and tropical waters Key Specification... Specifications Length: 14.21 m Lwl : 12.57 m Bmax: 4.44 m Draft: 1.14/2.90 m Displacement: 14.1 T Offshore category: 6/8 ...

Length: 9.52 m
... larger crew This compact cruiser, Delphia 29 is designed specifically to provide maximum performance for inshore voyages and cruising inland waterways whilst combining superlative nautical properties with roominess and ...
See the other products
DELPHIA Yachts

Length: 9.85 m
The Delphia 31 is the smallest ocean-going yacht in Delphia's range. The concept was to achieve as much interior space and light as possible for a 31-foot boat. The vessel is certainly made special by its interior design.The first thing ...
See the other products
DELPHIA Yachts

fast cruising sailboat
SE 23
Length: 7.11 m
The all new Saffier Se 23 ft is designed for those whom enjoy quality, harmonic lines and great sailing performance. The ideal small Yacht to enjoy a nice day of sailing with friends or family, but also to finish with results while racing ...

Length: 9.6 m
The Saffier Se 33 is designed as a seaworthy daysailer with extraordinary sailing potential in combination with a luxury feel of sailing. A powerfull rigg, fast underwater hull in combination with a moderen T bulp keel, a fixed bowsprit ...

Length: 14.35 m
With this latest model Solaris surpasses the standards set by itself. The Solaris 47 is the first and only model in this size to combine all the features and innovations to enable a high-performance boat to be easily sailed even with ...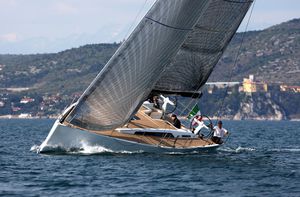 Length: 15.4 m
After the success of the 48-footer, which was first introduced in 2006 and which is still a reference when it comes to design, performance and functionality to all owners, designers and engineers, Solaris renews the challenge in the 15-meter ...

cruising sailboat
SPIRIT 47CR
Length: 14.33 m
A classically styled sailing yacht designed for ease of handling and excellent performance; ideal for long distance cruising or live aboard. Accommodation is for a party of five or six people in an atmosphere of understated ...

cruising sailboat
APOCALYPSE
Length: 12 m
Main spécifications - Length 12,00 m - Beam 3,20 m - Light displacement 4,50 T - Fin keel Composit - Lead bulb 1,9 T - Draft keelboat 2,20 m - Draft bilge keel - possible option - 1,50 m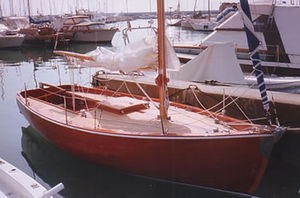 coastal cruising sailboat
Length: 6.3 m
The Sloop 6.30 is a partially decked craft ideal for short cruises along the coast. The planking is laminated and its appearance and sailing area are traditional and are similar to the 12 foot dinghy. The self-draining cockpit, the ...
See the other products
Colombo Leopoldo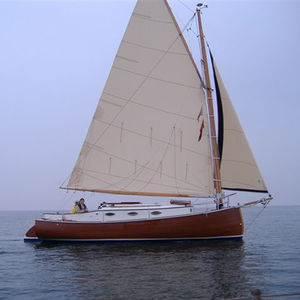 Length: 10.16 m
The CATBOAT is a typical American boat from the early 19th century. First it was a working boat but then it became a boat for cruises and regattas. With its unique lines, and solid mast fixed on the extreme prow, it is easy to manoeuvre ...
See the other products
Colombo Leopoldo 

Length: 10.8 m
In 1985 the yard launched the Degerö 35 S, a heavy displacement blue water cruising yacht with a distinctive curved transom, like her smaller sister. Designed by Håkan Södergren from Sweden, she has a long fin keel, a ...
See the other products
Degerö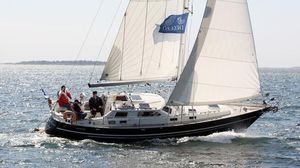 Length: 10.85 m
Year 2004, at the June Finnish "Floating" Show, the new Degerö 36 DS was launched. Based on the hull of the 35 S, and designed by Håkan Södergren, she has the benefits of the deck saloon and internal helm coupled with the traditional ...
See the other products
Degerö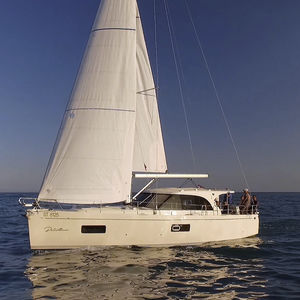 ocean cruising sailboat
42.1
Length: 42'01"
Albatross 42.1 Keeping your essence. Capacity, volume, comfort, performance, brightness, Without forgetting your safety on deck, even for children. 1. We have improved access by bow 2. We have increased capacity of control with ...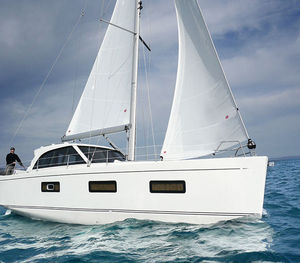 cruising sailboat
ALBATROSS 42
Length: 42'00"
There are ideas that reunite the best thing of several worlds. Ambitious ideas that they pass time in minds, planes and computers, until a day, happily, they sail by our coasts to cheer our senses. The Albatross 42 Panoramic is a tribute ...

Length: 15.3 m
This magnificent yacht has been created out of our core principals for quality, performance, safety, comfort and good sea-keeping ability. Apart from the centre cockpit layout, there's almost nothing 'traditional' about the entire yacht. ...
See the other products
Najad

Length: 13.5 m
Najad 450 CC is the result of the Najad philosophy to combine tradition and attention to every detail with sailing performance and outstanding comfort. The centre cockpit provides safety at sea and great living in port. The bowsprit handling ...
See the other products
Najad

fast cruising sailboat
ICE 33
Length: 9.99 m
The MATARAN MK3 project, made by Felci Yachts Design, is the first ICE33 produced and represents our very latest generation of racing boats. We were asked to design a simple handling , no compromise boat , 10 metre-long mono hull, conceived ...

Length: 13.45 m
The Felci 44 Ocean Cruiser was created as a boat designed for cruising and blue water navigation in the true sense of the word. The airy, practical internal spaces form an integral part of a marine boat that combines ...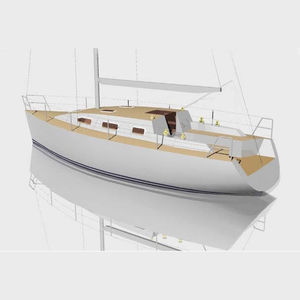 cruising sailboat
M&L 30 S
Length: 9 m
M&L 30 S is a modern sailing-yacht with round-bilge hull made of aluminium to reduce her weight. Telescopic keel and rudder allow her to navigate in shallow waters. Due to reduced weight it is possible to transport her using car. She ...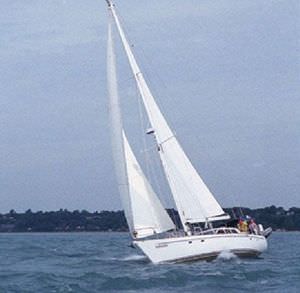 cruising sailboat
KANTER 47
Length: 14.38 m
... discerning yachting enthusiasts around the world. Thanks to its intelligent, thoughtful design, the Kanter 47 offers exceptional cruising comfort and stability as well as a world-class interior that is attractive, accommodating ...

cruising sailboat
CABO RICO 34/36
Length: 11.76 m
Originally created as the Cabo Rico 34 by world renowned naval architect W.I.B. Crealock, this boat also has grown into the Cabo Rico 36. Mr. Crealock designed an extension to her stern creating a more graceful stern, improved access ...
See the other products
Cabo Rico

cruising sailboat
CABO RICO 38 PILOT
Length: 12.5 m
The beautiful hull design of the Cabo Rico 38 lends itself very smartly to the addition of a practical and functional pilot house. Sailing a pilot house boat is almost like embarking on a "fair weather sail", no matter what the conditions. The ...
See the other products
Cabo Rico