Cruising-racing catamarans
How to choose this product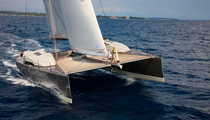 A cruising-racing catamaran is a twin-hulled sailboat combining the comfort of a cruiser with the performance of a racer.
Applications
These craft are ideal for fast cruising. They are speedy, competitive racers without sacrificing comfort. Highly flexible, such catamarans can be used for coastal or offshore cruising, racing with family or friends, recreational day-sailing or a voyage around the world.
Technologies
Vessel weight control is essential for performance. Thus, racer-cruisers are often made of carbon fiber, an extremely light, yet very sturdy material. In general, they carry a lot of sail for greater speed, though builders also show great ingenuity in providing comforts rivaling those of larger yachts.

Features may include cabins with private head, a saloon occupying the entire central platform, professionally equipped galley and ample deck space, among others. A flying bridge can provide additional deck space and an unobstructed 360° view of the sea.
How to choose
Length is the principal criterion of choice. It will directly affect cabin number and size, and maximum number of crew, as well as maintenance, insurance and berthing costs. There is a boat-length scale with sliding cursor at the upper right of the NauticExpo page to aid in selection.
Advantages
- Stability
- Below-decks comfort and space
- Speed and excitement
Disadvantages
- Primarily for experienced sailors
- Requires extra room in port
- Expensive
14 companies | 18 products (boat or nautical equipment)
1 products Tournier Marine
1 products Design Catamaran
1 products WindPearl Yachts
2 products Lerouge yachts
1 products Young Yacht Design
1 products Reynolds Sailing
Sailboat
R44 CAT - 12,19m

40' 0"ft

Reynolds Sailing
Can you Imagine... sailing at 18 knots in only 10 knots of wind in the world's largest trailerable boat? Can you imagine sailing fast and stable without heeling? Imagine a boat this fast yet easy to sail,...
2 products Xlight Catamaran
1 products Lightwave Yachts
1 products Veuliah Yachts
1 products Le Breton Yachts
Sailboat
SIG 45 - 13,70m

44' 11"ft

Le Breton Yachts
The SIG45 combines speed, innovation and grace, taking advantage of the performance, space and stability advantages of a modern performance multihull, but retaining the aesthetic elegance and ergonomics...
2 products Multimarine Composites
1 products Vismara
Sailboat custommade
OBI ONE - 17m

55' 9"ft

Vismara
The "ObiOne" project sees Vismara working in conjunction with Le Rouge, and it is an evolution of the well-known Petter 55, for which Vismara took charge of the creation at Petter Quality Yachts, Marseille....
Filter by :
› New products

(0)

› Products with video

(5)
Extend the search
Search by manufacturer
Search by catalog