How to choose this product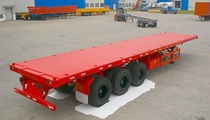 A container trailer is a wheeled metal platform used to move containers. NauticExpo offers a great variety of container trailers including triple-axle, self-loading and self-propelled models.
Applications
These vehicles carry containers both within terminals and along roads. They can be towed by trucks of various sizes, wheeled or treaded tractors or another type of vehicle.
Technologies
Such trailers consist of a metal framework or rectangular platform with container anchoring points. There is a set of wheels at the back and a towing attachment at the front. Some are self-propelled, with a steering system. Others have a hydraulic arm at each end to unload the container without using a crane.
Advantages
- Offers intermodal transport