How to choose this product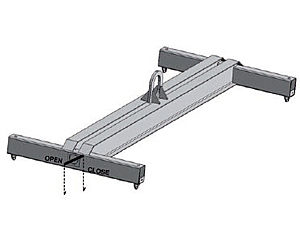 A container spreader is a piece of equipment designed to grasp a container by its four corners.
Applications
These devices secure the container so that it may be lifted or lowered with a gantry crane, a simple crane or a straddle carrier.
Technologies
There are two main types of spreader. A container spreader can be a solid steel structure fitting only a container of either 20 or 40 feet. However, it also can be equipped with telescopic arms allowing manipulation of containers of different sizes.
How to choose
The primary criterion is the size of container to be handled, usually either 20 or 40 feet. Using a spreader with adjustable arms makes for greater flexibility, but also increases the price and maintenance requirements.
Advantages
- Low maintenance
Disadvantages
- Some handle only a single container size