How to choose this product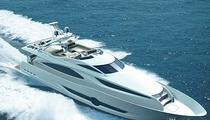 A composite yacht is a pleasure craft over 15 meters long of fiberglass-, carbon- or Kevlar-reinforced resin. On NauticExpo yachts are at least 15 meters long and categorized by length. Super-yachts are from 30 to 45 meters. Larger vessels are called mega-yachts.
Applications
These vessels are found in charter service or used by individuals for cruising.
Technologies
Composites are rarely used for yachts above 30 meters because construction requires meticulous processes and a shipyard with more expensive and specialized equipment than that used in steel or aluminum boat building. Thus, metal hulls with composite decks, solid or sandwich, are more common. This saves weight in the superstructure, increases stability and offers more harmonious shapes and a superior finish than can be obtained with metal. Construction procedures include infusion, vacuum and hand laying. The finish surface is gelcoat or sandable mastic.
How to choose
Choice will depend on boat size and number of cabins needed. If the vessel is for charter use, facilities for hotel services and a certain separation between crew and guest movements must be planned.
Advantages
- Lighter, less fuel consumption
- More curved forms possible
- Simplified maintenance
Disadvantages
- Hard to recycle when scrapped
- Complex, expensive construction
- Less sturdy than metal