How to choose this product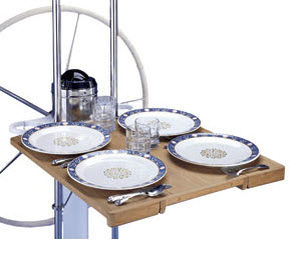 A cockpit table is usually set up temporarily for eating or a variety of other activities.
Applications
This furniture is primarily intended for leisure craft with a sufficiently large cockpit, but lacking a built-in table.
Technologies
These tables generally have a teak top, though it is sometimes resin. The legs are aluminum, stainless steel or even wood, sitting on or recessed into the cockpit sole. Some are supported by a single, central column. Others are designed to be attached to a tiller column or helm console.

A folding mechanism allows the table to be stowed out of the way when not in use, freeing space in the cockpit. Some models fold flat into the floor of a sailboat cockpit, avoiding the need for other storage space.
How to choose
Consider the space available in the cockpit and stowage space for the folded table. Monohull sailboats, subject to heeling, should have a table which can be attached to some part of the vessel. The number of people the table can seat is another factor. Choose a model that blends in with the vessel's decor.
Advantages
- Stowed table frees cockpit space
Disadvantages
- Less sturdy than a permanent table
- Requires frequent moving or folding