How to choose this product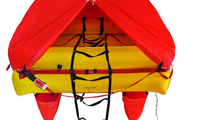 A coastal liferaft is a self-inflating craft used when abandoning ship.
Applications
Such rafts are exclusively for near-shore use because they carry no food, water, fishing tackle or other survival gear found on offshore models. This makes them smaller, lighter and less cumbersome than high-seas versions. However, a separate survival kit can be taken aboard when sailing farther from the coast. These liferafts are not necessary aboard unsinkable vessels.
Technologies
The raft can be square or round, and consists of insulated flooring and inflatable pontoons made of PVC, Hypalon®, vinyl or a similar material. A tent provides protection from rain, sun and waves. Each model is designed for a specific number of passengers.

Most such liferafts are inflated via a compressed air cylinder activated when the line connecting the raft to the vessel is pulled. A fabric ladder facilitates access from the sea. Some include seawater ballast for increased stability.
How to choose
Each country has specific regulations regarding safety at sea. Verify requirements with the appropriate authorities of the boat's country of registration.
Advantages
- Lighter than offshore models
- More compact than offshore models
Disadvantages
- Not equipped for long-term survival
- Expensive mandatory periodic inspections