How to choose this product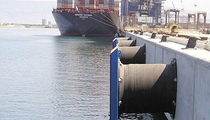 A closed-cell fender is mounted on a vertical dock face to absorb the impact of docking ships.
Applications
These fenders are found at docks used by large ships including oil and LNG tanker terminals, offshore oil platforms, container and Ro-Ro terminals.
Technologies
Such fenders are made of different types of rubber with specific compression characteristics. They resemble a cable spool, with flat bases flanking a central cylinder. The cylinder absorbs the impact of a docking ship. One base is attached to the side of the dock. The other holds panels which increase the surface area contacting the ship's sides. These fenders can be mounted singly or in pairs.
How to choose
Choice will depend on the type and size of docking vessels, the largest of which may require installing fenders in pairs.
Advantages
- Simple
- Multipurpose