Cleat towers
How to choose this product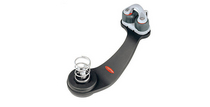 Cleat towers are fittings used to control the mainsail sheet of a sailboat or sailing dinghy from either side of the vessel. They are composed of a pivoting arm equipped with a sheet block and a jam cleat to hold the sheet fast once properly adjusted.
Applications
Such gear can be used aboard almost any type of sailboat.
Technologies
These fittings are generally stainless steel. They pivot around a vertical axis so that the sheet exits the block in the direction of the crew member handling it. The block sits on a spring and is held by a metal or textile strap. Sailing dinghies often replace this arrangement with a simple fairlead. Leaving the block, the sheet runs through a fairlead and is held fast by a cam cleat.
How to choose
Choice will depend on the type, model and size of the sailboat, the size of the mainsail and the diameter of its sheets.
11
companies |
19
products (boats or nautical equipment)
Filter by :
› New products

(0)

› Products with video

(1)
Extend the search
Search by manufacturer
Find a distributor
Search by catalog