How to choose this product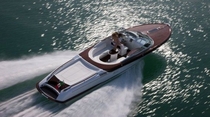 Classic runabouts are small powerboats with low freeboard, a foredeck and a helm station protected by a windshield. Their traditional lines have a distinct retro look.
Applications
Such craft are suitable for day outings at sea or on inland waterways. A favorite of boaters who appreciate traditional aesthetics, they can be used for towed water sports, fishing and relaxing afloat. Models equipped with a cabin are capable of short cruises.
Technologies
While most of these vessels are wood, numerous boatyards build them of polyester or epoxy resin with fiberglass or carbon fiber for lightness and ease of maintenance. Engines are usually inboard and quite powerful. Some are turbocharged.

Most classic runabouts on NauticExpo feature at least a small cabin and a head, making them suitable for short cruises and overnight harbor hopping. The deck often has a sunbathing platform, sometimes convertible into a bench.
How to choose
Besides length, which rarely exceeds eight or 10 meters, aesthetics are the main criterion of choice.