How to choose this product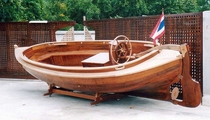 A classic open boat is a small craft whose lines give it a traditional appearance. NauticExpo offers a variety of such boats powered by sail, motor or oar.
Applications
These vessels are generally used for short outings close to the seashore, in rivers or on lakes.
Technologies
Wood is often the material of choice for classic craft. The hull may be clinker- or carvel-built. Power is furnished by a small internal combustion engine, an electric motor, a sail or oars.
How to choose
Dimensions, propulsion and construction methods will determine choice of traditional craft.