How to choose this product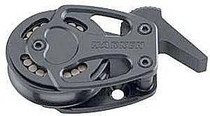 A cheek block is fastened flush against a part of the vessel rather than being attached by the top of the cheek assembly. It guides lines to where crew members can handle them conveniently and efficiently.
Applications
These fittings can be used to lead a single sheet to the cockpit or all the halyards to a series of line clutches across the coach roof.
Technologies
While any block can play the same role as a cheek block, the latter can be mounted flush against the deck to keep lines as low as possible. Some have an integrated jam cleat, forming a combination block/line clutch.
How to choose
Choice will depend on line diameter. Mounting location is important since the block can be subject to loads liable to rip it out and the screws to shear strain. Those designed to lie with one cheek flat against the deck often are the most suitable.