How to choose this product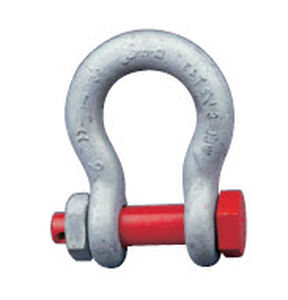 A chain shackle is composed of a U-shaped yoke and a pin. It is used to connect a chain to an anchor, while leaving sufficient mobility in the ground tackle, and without creating a weak point.
Applications
These fittings are found on anchor lines aboard ships, yachts, work boats and other vessels. They also can be used to moor a barge or a pontoon along a dock or to a main anchor chain. Some shackles are designed for towing ships.
Technologies
The most common types are D-shackles and bow shackles, generally closed by a bolt and nut or with a cotter pin. Some include a swivel to increase the freedom of movement between the chain and the anchor. Such shackles are generally made of galvanized steel, though some are stainless steel.
How to choose
Choice will depend on chain diameter. The shackle diameter should large enough not to constitute a weak link in the mooring. Choice between a bow and a D-shackle will depend on the freedom of movement required by the connected elements.