How to choose this product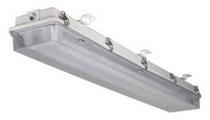 A ships ceiling fixture provides interior illumination aboard merchant and professional vessels.
Applications
Such fixtures can be installed in exterior locations if sufficiently watertight. Some models are designed for areas presenting particular dangers.
Technologies
Sturdier, more powerful, less stylish and running on alternating current, these lights differ from models found aboard leisure craft in many ways. Most use fluorescent or neon bulbs, though incandescent models are also available.

In engine rooms and other dangerous on-board areas such fixtures are sometimes covered by a metal cage. The bulb cover, itself, is often designed to resist dust, gas and projectile damage. Most run on 110- or 230-volt AC.
How to choose
Choice will depend on installation location. Neon light may lack the warmth expected in cabins, but is perfectly acceptable for passageways, equipment and control areas.