How to choose this product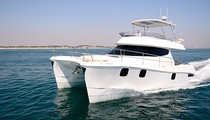 An express-cruiser catamaran is a dual-hull craft that allows living aboard.
Applications
These crafts are mainly used for cruising, but can also be used for daytime excursions, fishing, or leisure.
Technologies
Most models are built of composite materials (fiberglass or polyester resin, vinyl ester or epoxy). Some are made of aluminum.

Both hulls usually offer living space, and are connected together by a platform decking on which is situated the covered unit.

Above the platform, some express-cruiser catamarans feature a flybridge, i.e. an open space protected or not by a hard-top or a bimini-top, which allows to enjoy the view and the sun.

Each hull is usually equipped with a single engine, which eases port maneuvering. The engines can be diesel, fuel, hybrid or electrical.
How to choose
Consider carefully the necessary space: number of bunks, exterior spaces, dining space. Consider as well mooring options and maitenenance costs.

The presence of a flybridge is a pleasant option that allows to view the sea from a shaded and elevated position.

Motorization must be studied and take into account the craft's weight and navigation. Constructors offer many types of engine powering.

Consider the standard equipment and the optional features.
Advantages
- Good livability
- Do not depend on wind
- Relatively fast
- Little roll
Disadvantages
- Fuel consumption
- Brutal pitch at sea
- Requires much port space