How to choose this product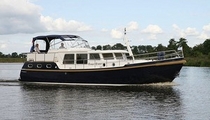 Canals boats are motor vessels designed for touring navigable rivers and canals.
Applications
Some such vessels are for tourist trips, while others are private craft. These can be configured as live-aboards, either a moored houseboat or a mobile launch. There are also basic rowboats and motorboats for cruising lakes, ponds and rivers, or for fishing or a romantic outing.
Technologies
Canals boats have displacement hulls. Speed being limited on inland waterways, these craft are slow, pushing through rather than planing over the water. They are usually of aluminum, wood or fiberglass. Some are converted inland cargo vessels, while others are modern designs. Maximum comfort and habitability are the primary concerns.

Passenger versions, usually of aluminum, have windows all around and numerous seats, often on two levels. Traditional river craft feature classic lines, often emphasized by the use of wood. Any of these craft can be powered by inboard diesel or outboard. Electric motors are increasingly employed since speed is less important than silence.
How to choose
Some canal boats require no license. Livability and comfort will be the main criteria for choosing, as a function of intended use.