How to choose this product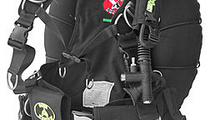 A buoyancy compensator (BC, BCD, stab jacket) is a piece of dive gear whose principal functions are to facilitate floating at the surface, adjust buoyancy beneath the water and reach the surface without effort in case of emergency.
Applications
These devices are worn by both recreational and commercial divers, and are used by dive schools. Today, virtually no one dives without a BC because of their safety advantages.
Technologies
The BC jacket is inflated by compressed air from the tank via a hose attached to the first stage of the regulator. It is filled or emptied via buttons and/or pull-cords. It usually incorporates a rigid backpack to which the tank is strapped. It also has pockets and D-rings for holding gear, such as dive lights, fish guides and gauges. Some include quick-release pockets for dive weights.

Older-style, horse collar BCs are slipped over the head and strapped to the body. They are independent of the tank and backpack, but can still be connected to the first stage for power inflation.
How to choose
There are numerous varieties of stab jacket, including specialty models designed for travel or for technical diving. The jacket should be inflated to verify fit and ready access to controls and closures. Particular attention should be paid to the lumbar support and to seam quality.

An in-water test is advisable before purchase, since proper fit is essential for safety and comfort. Jacket volume should be sufficient to lift the wearer and a diver needing assistance to the surface.
Advantages
- Added comfort and safety
- Provides gear storage
- Facilitates surfacing
Disadvantages
- Cumbersome if fit is poor
- Inflation uses tank air