How to choose this product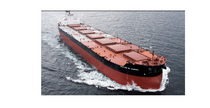 The bulk carrier is designed to transport dry bulk cargoes. It travels at low speed and, when full, has little freeboard. There are many different sizes of bulk carrier, though most are large.
Applications
Bulk carriers can meet a wide variety of shipping needs. The great diversity of dry bulk cargoes includes ores, coal, cereals and cement.
Technologies
Dry bulk carriers have one open-plan deck and several reinforced holds. Each hold is loaded and unloaded via a large hatch, which is covered while underway. Some bulk carriers use their own deck cranes to handle cargo independently of port facilities.
How to choose
Choice of bulk carrier depends primarily on type of cargo to be transported. Other important factors include: vessel dimensions, engine power, deck cranes and number of holds.
Advantages
- Great cargo capacity
Disadvantages
- Relatively slow loading and unloading