How to choose this product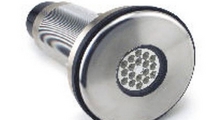 Underwater boat lighting includes any fixture that can be mounted under a recreational/pleasure craft to illuminate the water and seabed beneath the vessel.
Applications
These lights are installed primarily on yachts to create attractive visual effects around the vessel.
Technologies
Such devices can be through-hull fittings or attached to the outside of the hull. The first type requires a larger hole in the hull, but extends only slightly beyond its surface, creating less drag. Most use LED bulbs, which consume less electricity and offer a wider choice of light color. Some include a microprocessor, allowing control and color variation from a central electronics panel. All must be completely watertight (IPX8 rating).
How to choose
Choice will depend on through-hull or surface mount. If the boat has computerized lighting control, a compatible light model should be chosen.