How to choose this product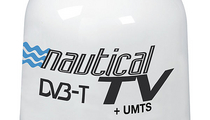 A boat TV antenna is a device capable of receiving satellite, DTT, VHF and/or UHF broadcasts at sea or in port.
Technologies
These antennas are usually housed in a radome, which should be mounted as high as possible on the boat to avoid interference. Unlike passive models, active, amplified antennas require connection to a 12V or 24V power source. Multipurpose antennas also can receive VHF marine channels, voice or fax/data, UMTS bands, or other signal types.
How to choose
The size of radomes limits their use to large vessels. Smaller versions only receive UHF/VHF signals. The progressive disappearance of this type of television broadcast eventually will render such models obsolete.

In its place, a satellite antenna which automatically orients itself to the satellite of choice (e.g., ASTRA 1 or 2), should be considered. It is equipped with a decoder, like those found in homes. Another option is digital terrestrial television, though it receives fewer channels and may not work far offshore.