How to choose this product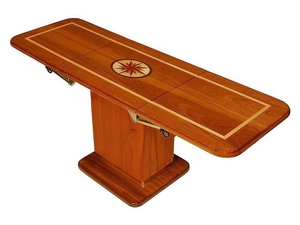 Boat tables can be used as interior or exterior furniture, permanently attached or movable. They are designed to suit the needs and arrangements typical of recreational vessels.
Technologies
Teak tables are quite common. Weatherproof and rot-resistant, they can have fixed or folding legs. Some models fold into the cockpit sole, disappearing completely. There are also occasional tables, easy to store and very practical aboard rigid inflatables and other small craft.

These tables are made of stainless steel, aluminum, laminates, fiberglass and even carbon. Some are intended for cleaning fish, card playing or another specific activity. Certain models are true works of art, featuring elaborate marquetry, bright varnish or trendy brushed steel.
How to choose
Choice will depend on the available space and intended use of the table. Interior or exterior installation also will affect selection. Verify adequate stowage space for folding models. The table should blend in with the surrounding decor. For some vessels, the table will have to be custom-made.