How to choose this product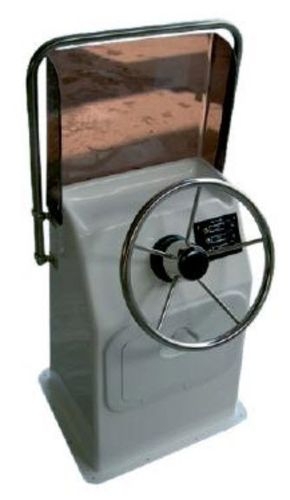 A boat steering console holds the wheel, throttle and instrument cluster on a motor vessel. The consoles offered on NauticExpo are suited for leisure craft rather than for ships.
Applications
These consoles are suitable for installation on many types of power vessels, especially open boats. They differ from ship consoles in their more aesthetic design and lesser sophistication. They also are found on rigid inflatables, where they offer more comfortable steering.
Technologies
The wheel is mounted on a transverse bearing within a rectangular column made of fiberglass, carbon fiber or, less often, of metal. The console also holds steering gear linking the wheel to the rudder or to an outboard motor or pod drive. The throttle can be mounted on either side of the wheel, depending on the owner's preference. Control rods are within the console.

Built-in instruments can include tachometer, fuel gauge, GPS and chart plotter, among others. A seat, either chair or jockey style, windshield, railing, gear stowage and other features also may be included.
How to choose
Choice will depend on space available in the cockpit, which varies by boat make and model. If the console and wheel are supplied as a unit, it is important to know the type of steering gear and the distance between the console and the rudder or the motor, in the case of an outboard.