How to choose this product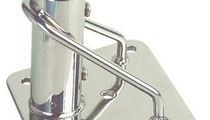 A boat stanchion socket is a fitting fastened to the deck at the rail. It holds the stanchions, the vertical tubes supporting the lifelines running around the edge of the deck. On NauticExpo, such items are intended for use on leisure craft.
Applications
All vessels with lifelines must have such sockets to support the stanchions.
Technologies
These fittings consist of a flat base and a short vertical tube. Some have reinforcement braces to prevent bending when under stress. Most are stainless steel.
How to choose
Configuration varies from model to model. Since the socket is designed for a stanchion of a set diameter, be sure to choose the appropriate version. The fitting also must be suitable for the vessel's rail arrangement. Note the boat model for production craft or supply a photo in the case of a one-off vessel.